Interview by SARA SCIALPI — Photos by MICHAL PUDELKA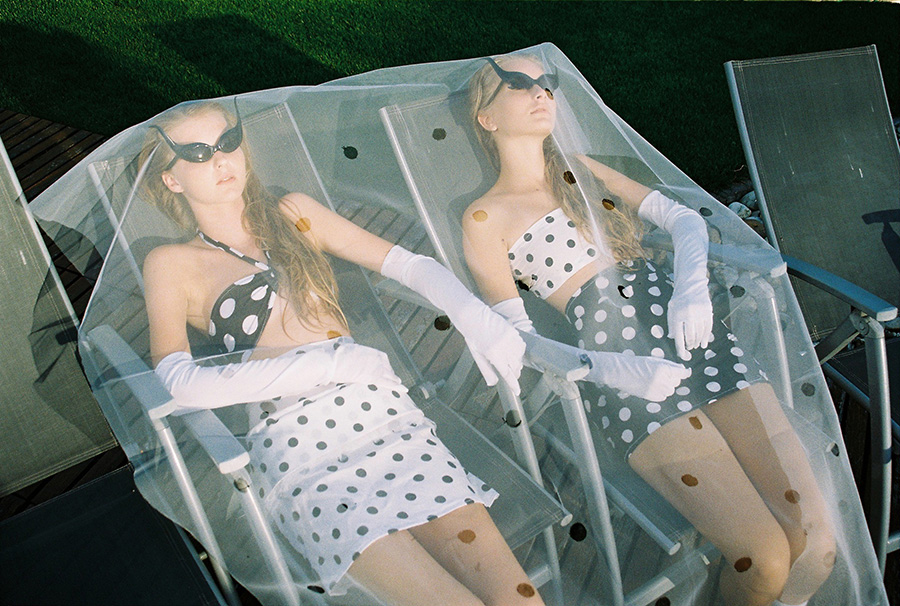 Avoiding clichés, spitting on the gutless standards of those who believe commercial is the way to make it, loving but subtly mocking his roots. Caring about the difference, even if it's a really small one. Even if it's in a rowdy, nonsensical and colourful crowd or a plastic, paralysed, grey one. We're talking about Michal Pudelka. The harmony of his pictures locks up a sly, sneaky smile; a subtle provocation, a story going on. A tale that is modern but warm, explosive but without deformations.
SARA S. — How did your love for beauty and fashion develop? All at once or step by step?
MICHAL P. — I think it all started when I was a little boy, I had only female cousins and we always played with Barbie dolls. Since I was seven years old, I wanted to be a fashion designer. But when I came to Paris to study, in my foundation year I fell in love with photography.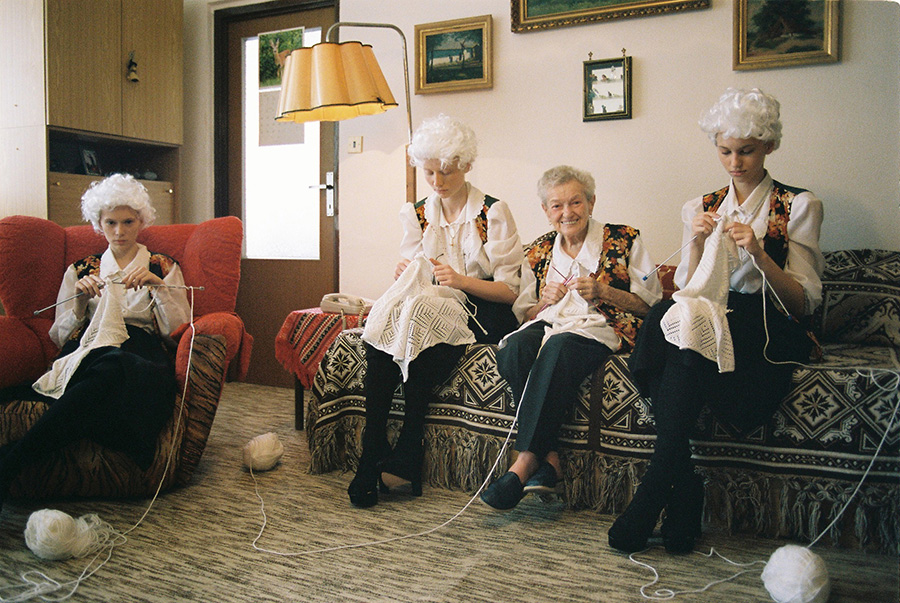 SARA S. — Was it hard to choose art and photography as a way of living in a city like Bratislava? Anyway, you seem very much connected with some kind of North-Eastern European kind of beauty. What of the place you were born in influenced you the most?
MICHAL P. — It was and is not really hard, it doesn't matter where I live, since I still work for various magazines around the world. Of course, I'm really connected with eastern Europe – it really left some traces on me, growing up in a post-communistic country where everything looks so cold and kind of impersonal.
SARA S. — Did moving to Paris change your perspective on art? Or was it just a formal change, to escape the rigid schemes of your home country? I mean, maybe your ideas and talent were there regardless of the change of place.
MICHAL P. — To be completely honest, my moving to Paris didn't change anything in me or about me. Yes, I wanted to escape from the country where people are still so close-minded. Even in art or photography, there is some commercial style that is mainstream, and if you don't do that, you can't really become known. That's why I'm working only for magazines from other countries around the globe.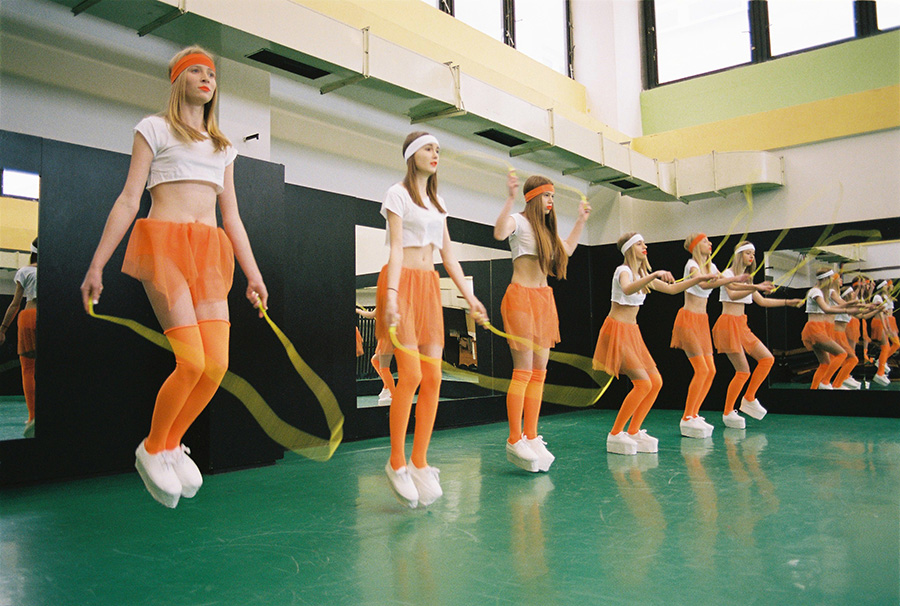 SARA S. — Your models seem to be really provocative and self-confident, under their (seemingly?) naive appearance. How do you manage to achieve that? And also, how does playing with colours (which you do a lot) help you to do underline girls' beauty, moods and personalities?
MICHAL P. — Every shoot I do is the result of a long process of preparation – many sketches made prior to that. Models on my shoots have it very easy, because I always know how I want every detail on my photograph to be.
SARA S. — Where do you prefer to shoot? Indoor, outdoor, urban landscapes, nature? How does the environment impact the mood you want to share?
MICHAL P. — To me, the most important element is the concept, then it doesn't really matter where it is – I like to shoot anywhere.
SARA S. — I've seen that many of your latest pictures feature many models in one scene. Is that difficult to handle? Also, how much time does it take to stage a picture – the poses, the expressions – to make it look perfectly harmonic?
MICHAL P. — Sometimes it is a bit hard to manage, but that is my current concept – the similarities plus a little, hidden difference. There are many social groups where people look the same or act the same. I try to reflect this phenomenon in a way that is both a bit ironical and poetical. It usually takes about two or three weeks to make everything look perfect. Also, I never use Photoshop, so the preparation is really important.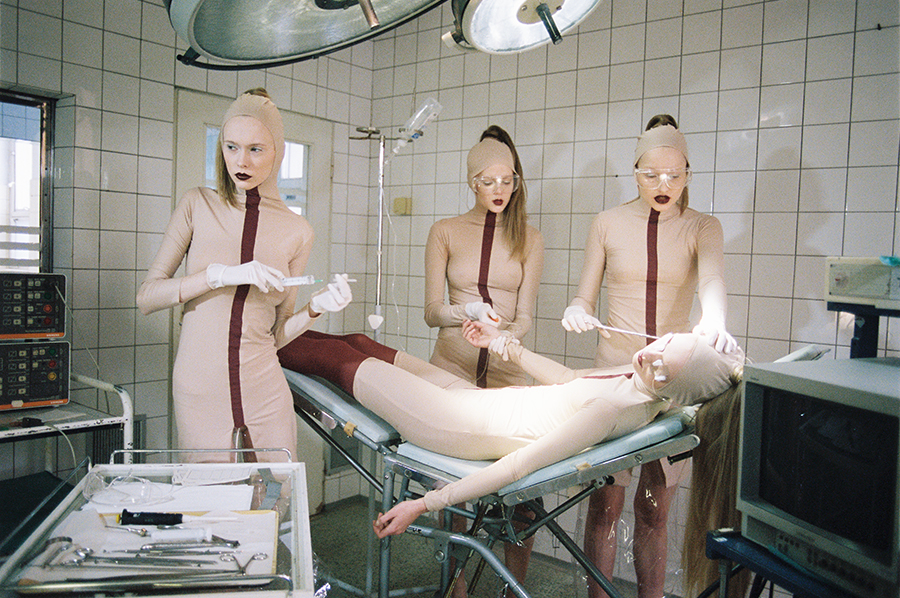 SARA S. — When you started working as a photographer, did you have any particular style or photography-idol you looked up to?
MICHAL P. — Photography came to my life all of a sudden, so I never had any photographer-idol.
SARA S. — And are there any photographers or visual artists inspiring you at the moment?
MICHAL P. — What inspires me the most are my own life experiences.
SARA S. — In your eyes, what are the elements that make a bad picture bad?
MICHAL P. — It is really hard to tell, I don't really like photoshopped, digital, boring pictures where nothing is really happening.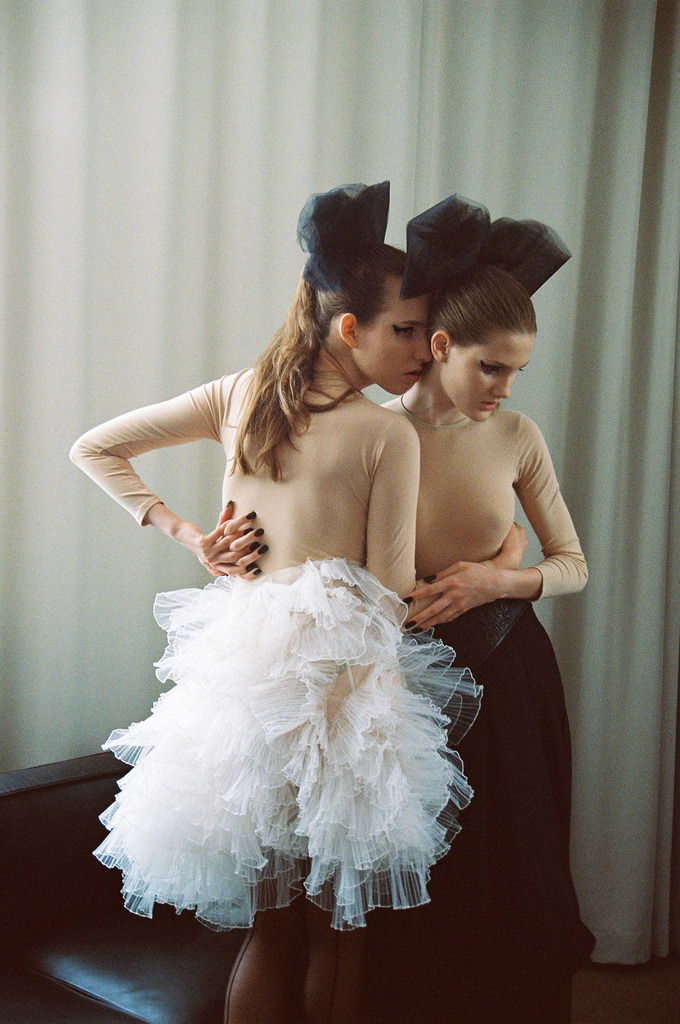 SARA S. — Recommend us a song to browse your pictures along with.
MICHAL P. — Sometimes it would be 'Parasite' from How to Destroy Angels, other times 'Primitive' from Roisin Murphy, or maybe also anything from Depeche Mode and Miss Kittin.
michalpudelka.tumblr.com
instagram.com/michal_pudelka
December 2011